The Marquis De Sade : A Life
by Neil Schaeffer
1999/BIOGRAPHY
---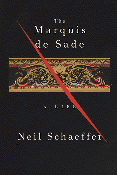 Reviews
(taken from Amazon.com)
His immortality may be of a scandalous variety, but the fascination still exerted by Donatien Alphonse François de Sade (1740-1814) is evidenced in this, the third biography of the man to appear in a scant six months. Francine du Plessix Gray (At Home with the Marquis de Sade) and Laurence Bongie (Sade: A Biographical Essay) take arguably more original approaches, but American academic Neil Schaeffer's thorough, carefully researched and argued book is more likely to appeal to the general reader who knows little of Sade beyond the perversion to which he gave his name. In fact, Schaeffer contends, the marquis was hardly a textbook sadist: he liked to be beaten at least as much as he enjoyed inflicting pain, which was a pastime he pursued primarily in his books' scatological fantasies. The author generally attempts to temper Sade's dreadful reputation, placing his escapades with prostitutes and menservants in the European tradition of aristocratic libertinism and pointing up the witty irony as well as the obscenities in works like The 120 Days of Sodom ("the most radical novel ever written"). It's not exactly a pretty picture, but Schaeffer makes a plausible case that the man imprisoned by both royal and revolutionary regimes posed more danger through his unfettered imaginings than through anything he actually did. --Wendy Smith
From Kirkus Reviews , February 15, 1999
Schaeffer (English/Brooklyn Coll.) is an unlucky fellow. Not only is the Marquis de Sade's life already thoroughly published, no fewer than two North American writers have brought out major biographies in the last few months. When one comes to such a topic so late, it is customary to stake out some special perspective, aspect, or agenda. In November of last year Francine du Plessix Gray crossed the finish line first with her excellent At Home with the Marquis de Sade. In it she emphasizes Sade's married life and domestic arrangements. Then in December a sober-minded Canadian scholar of French literature, Laurence Bongie, offered a full-scale assault against sadolatry in his fine Sade: A Biographical Essay; Bongie sees it as his mission to deflate the odious Sade's overblown prestige. And just when we thought enough of Sade was enough, we get Schaeffer's version of the life. Disappointingly, it does not markedly differ from any of the other lives that you might care to pick up and read. Schaeffer has not bothered to make a distinctive argument about Sade or his writing. Orthodox Freudian explanations resolve Sade's perversions, and Schaeffer blandly accepts Sade as the major writer that many modernists proclaimed. Though Schaeffer does not state his views with great clarity, he gives the impression that Sade's greatness resides in his unblinking gaze at the worst to be found in us. Freud also underpins Schaeffer's reading of Sade's appeal (if that is the right word): ``Since sexual perversity is a common feature of everyone's mental life . . . there is in every reader extremely powerful motives to respond to Sade's imagination on this subjectwhether through identification, laughter, titillation, horror, anger, or disgusted rejection.'' The logic of this thought might not stand up under severe scrutiny, but we get the idea that Sade, like other great writers, is universal. This life of Sade is a respectable biography, but not likely to stand out in the crowd. -- Copyright ©1999, Kirkus Associates, LP. All rights reserved.
Synopsis
Against a magnificently embroidered backdrop of 18th-century France, a Professor of English Literature reconstructs the almost incredible adventures of the radical leader whose sexual exploits led to imprisonment.
---
Related Links
Neil Schaeffer Homepage
---